Microlite Corporation will be closed on
Monday, July 4th, 2016!
BackupEDGE 03.01.03 build 5 Now Available!

Linux P2V Support to Hyper-V.
Red Hat Enterprise Linux 6.8, CentOS 6.8 Support.
Ubuntu 16.04 LTS Support.
Improvements to Database Management for Fast File Restore and Instant File Restore.

---

BackupEDGE 03.01.03 build 4 Includes...

Ubuntu 15.10 Additional Support & Patches.
EDGEMENU & Help File Cosmetic Improvements.
Communications and Security Libraries updated.

---

Download March 2016 Newsletter.

---

Xinuos "DEFINITIVE" series now fully supported in BackupEDGE 03.01.03 build 3. See our updated UNIX Support Tables.

---

Updated! P2V Virtualization Support

Additionally, Microlite Corporation is available to perform on-site virtualization of OpenServer 5.0.7 and OpenServer 6.0.0 at special consulting rates. Call for details.
Microlite BackupEDGE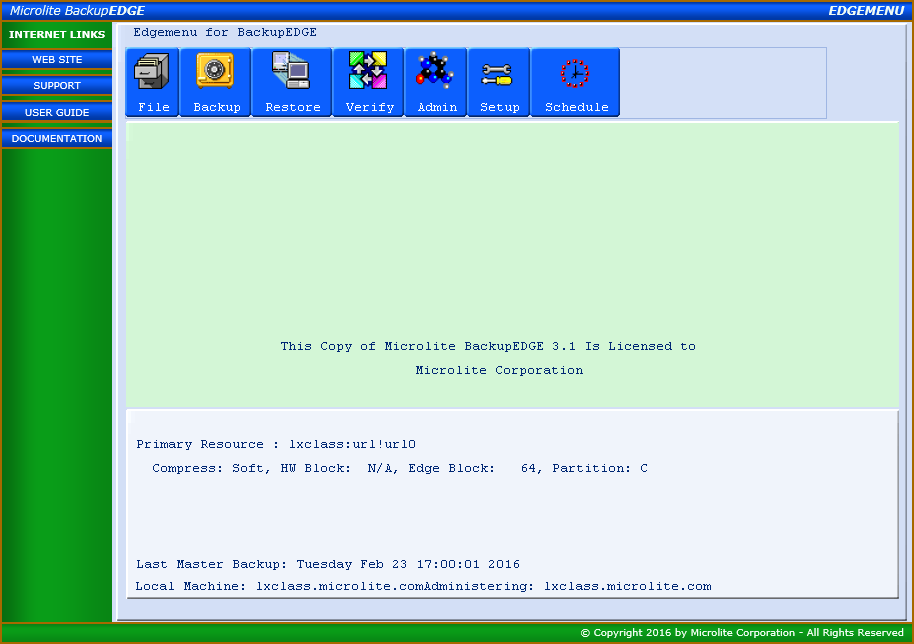 BackupEDGE™ is a high performance, easy to use, fully integrated backup, restore and bare metal disaster recovery software product for Linux® and UNIX® operating systems. It manages the entire process of protecting critical data while shielding the user from the headaches involved in directly managing individual actions.
It supports the industry's widest variety of storage devices, including tape drives, Blu-ray Disc™, DVD and CD writers, tape changers, libraries and autoloaders, and USB and SATA flash drives, disk drives and cartridges.
It also fully supports backups to network-attached storage (NAS) devices, servers and appliances over the local network or Internet, as well as Internet backups to the Amazon Simple Storage Service (S3) web storage cloud and many other sites around the world who use the S3 storage API.
BackupEDGE uses a modern, standards-based data format that allows for very long pathnames, very high compression ratios, ACLs (access control lists), multiple archive verification strategies and highly secure data encryption. Its modular architecture providing great flexibility in implementing and maintaining backup strategies.
The product has an industry exclusive tri-mode management interface (called EDGEMENU). The interface runs on the graphical desktop or can be enabled as a web service and run remotely from a Java-equipped web browser. It may also be run in legacy character mode from the character console or from terminals and terminal emulators.
RecoverEDGE
RecoverEDGE™ is automated disaster recovery (DR) software allowing complete bare metal recovery after a hardware failure without having to re-install the operating system, configure device drivers, etc. It comes free with the Linux, UnixWare® 7, OpenServer™ 6 and OpenServer 5 versions of BackupEDGE.
RecoverEDGE custom built boot media and a BackupEDGE backup (which on some archive types can be combined into a "bootable backup") are all that is necessary to recover from a hardware or software catastrophe.
Boot media types include:
CD / DVD / Blu-Ray Disc™
Disc Image
PXE Boot Image
HP ODBR™ bootable tape
What To Do Next
Last Updated - 2016/06/27